When Lars Hoffmann first told me about his idea to turn an existing photo into a YOUR-ART work, I was immediately hooked, because the set-up of this photo was already sensationally exciting. Together we thought about which picture/pictures we could work into the collage and so we found one that could fit perfectly.
The real work for me now began with putting these two photos together in a collage in a way that also fits Lars perfectly. A digital collage makes it possible to include or hide smaller details in advance. It is exciting for me to find the right "mix", because the collage becomes the basis for the later canvas print.
During my work in the studio I often lose the feeling for space and time, because I fully connect with the canvas. Therefore, it is not always easy to answer the question "how long" you work on a painting. As with any original work, the point in time when it is finished is not always immediately obvious, so a change of perspective through distance and closeness is always necessary :)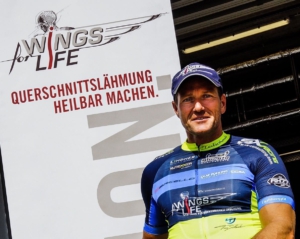 Last Saturday, Lars and his wife Barbara made their way to Cologne to pick up their YOUR-ART. It is exactly THESE moments that always encourage me to do the right thing: To be able to meet special people who not only touch through their own stories, but who also impress with the way they face hurdles and challenges in life. I am very grateful that my interpretation, my "HERBOLD-ART" with regard to this mission obviously also led right to the heart of the matter. – Just like Lars' world record attempt in 24-hour handbiking at the end of June. Lars achieved this with 660 km (!) SUCCESSFULLY. (Recommended: This article on Sportalpen.com).

I have compiled more detailed information about the YOUR-ART concept here.
What about our joint project sometime…? :)
Susanne